Presented here are our travels since 2021,which currently covers our 10 months in Croatia and sites in Kuala Lumpur. The descriptors with a "360" icon after the text description denote 360-degree tours that will run on desktop and mobile devices. Some of them will work in Google Cardboard or similar headsets, for a fully immersive tour. Look for a QR code beneath the tour.


Islamic Arts Museum, Malaysia: The Finest Exhibit of Muslim Art in SE AsiaUNDER CONSTRUCTION


Visit the Islamic Arts Museum


The Islamic Art Museum in Kuala Lumpur hosts the largest collection of Muslim artifacts in Southeast Asia, and is a building we visit several times a year with visitors, always learning something new. This webpage features a 360 degree virtual tour of the museum and its permanent galleries, as well as a virtual tour of one of the special galleries that housed a spectacular painting/photo exhibit of the Hajj in the 19th century.





Croatia: A Gem of Eastern Europe
Discover the Charms of Eastern Europe



We were fortunate enough to spend 10 months in Croatia, as Tracy accepted a one-year teaching position at the American International School of Zagreb. During that time we used sunny weekends and school holiday to visit not only its famed coastline, but also its stunning interior, a mixture of natural beauty and European charm. You may access the tour by clicking on the photo to the left, or on the link above.



Slovenia: In the Shadow of the Alps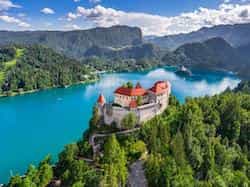 Castles, Coastline, Cosmopolitan Life in the shadow of the Alps


Slovenia is much more than just the birthplace of the former first lady Melania (aka Ms.

I Really Don't Care, Do You?

). It is a beautiful country with views of the Julian Alps, fairytale castles and cities oozing with old world charm. Fortunately for us, it was just a two hour ride from Zagreb. Come and sample the charm of Lubljana, the ancient Roman ruins of Piran, and the storybook Bled Castle overlooking the lake of the same name.